FRYER – High Quality Toolroom Mills for Small Batch Production
Quote on Request
Machine Overview
The Fryer MB-Q Series is the ultimate mill for toolroom applications. Designed and built to be the finest toolroom mill available, these machines are easier to use, more accurate and last longer than any other toolroom mill. Equipped with a manual quill and manual handwheels, the "Q" Series gives you the flexibility to use in manual, semi-CNC or full-CNC modes. The conversational control makes programming easy so even one-off parts can be done quickly and efficiently.
Model: MB-10Q, MB-14Q, MB-16Q
Serial: New
Notable Features
EASE OF USE
Manual handles for X and Y axis
Manual quill with optional glass scale
"Do One" cycles for pockets, drilling, bolt circles & more
All models feature 6″ manual quill
MB-Q Series
Toolroom Bed Mill with Manual Quill Head
Manual, Semi-CNC or Full-CNC Modes
Extremely Easy to Use
Fast Set Up for One Off-Parts
Perfect for Repair, Tool & Die, Maintenance & Job Shop
CNC Control
Overview
The Fryer – Siemens 828 control is designed for ease of use in low volume toolroom and job shop facilities. Simple menu programming and fast set-up keys allow you make one-off parts in half the time of a manual machine. Multi mode operation allows you to use the machine manually, semi-automatic and full CNC mode. Canned cycles and graphic verify make set-up faster and easier.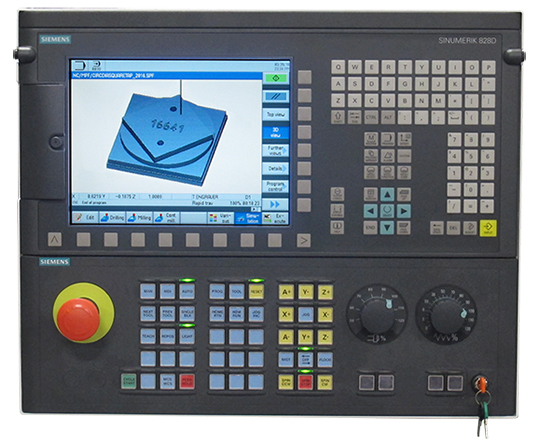 FRYER-SIEMENS 828 CNC
Manual or CNC
Do-one mode
Teach mode
Conversational mode
TECHNOLOGY
Ultra reliable Siemens High Speed all digital control system
Regenerative drives save 40% electrical use
Digital drives provide better accuracy and surface finish
Absolute encoders never require you to 'home' machine
Simple menu programming – no codes of any kind
FEATURES

Versatile quill head with gear box
One-touch set-up buttons
Rigid tapping with peck feature
Handwheel run makes testing programs safer
10 HP 4,500 RPM CAT-40 taper spindle
Rugged heavy duty Meehanite castings

Reads standard G & M codes from CAD-CAM systems
Solid model part verification
SPECIFICATIONS AND CONDITION ARE CORRECT TO THE BEST OF OUR KNOWLEDGE AND ARE SUBJECT TO YOUR VERIFICATION AND CORRECTION. THE CONDITION OF THE MACHINE IS AS IT HAS BEEN REPRESENTED TO US. ALL MACHINES ARE SUBJECT TO PRIOR SALE. EVERY MACHINE, UNLESS OTHERWISE SPECIFIED, IS OFFERED SUBJECT TO OUR GUARANTEE THAT IF FOUND TO BE MECHANICALLY UNSATISFACTORY WITHIN 30 DAYS AFTER SHIPMENT, SAME MY BE RETURNED, FREIGHT PREPAID FOR FULL CREDIT OR REPAIRED AT DEALER'S OPTION. ALL MACHINES RETURNED TO US MUST BE IN AS GOOD A CONDITION AS WHEN SHIPPED.
Looking for something else?
We can send you an alert about new products listed on our site or available as soon as we post them! Sign up for equipment alerts or give us a call at 800-643-5839.